Prayers for the Mom Who Does It All, Part 2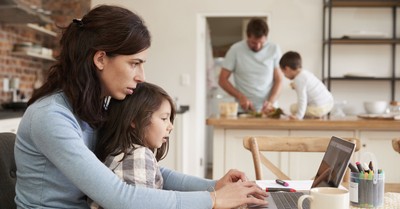 By Jen Jabbour, Crosswalk.com
Being a mom isn't always glorious. I remember being young, dreaming of the day I'd be blessed with children. I imagined what it would be like.
Then the day came when my son was born. It was one of the best days of my life; and as most moms would say, it was the day my life changed forever.
But it didn't turn out quite how I had imagined it would.
Motherhood is hard. It gets lonely. It can be heartbreaking.
We put our hearts and souls into our children. They're our everything, and when they suddenly no longer need us, we seem to lose our way.
Just like God has big plans for us, we have big plans for our children. When my son was little, I would always tell him, "You can be anything you want to be. You can do anything you want to do." It was true because he had a whole support system behind him, cheering him on and paving the path ahead of him for success.
Naturally, our babies grow up, and they start making their own decisions (and not always the ones we would choose); and eventually, we have to let them go, surrender them to God, and trust Him to take care of them.
I once witnessed a mama bird pecking her young one on the head as if to say, why haven't you left already? Oh, to be that confident and willing to push my children out into the world on their own.
If we're going to get through these difficult years of letting our little humans go, we must lean into God and ask him to guide them as they navigate from childhood and dependency on us to adulthood and independence from us.
I hope these prayers help bring you comfort and strength if you, like me, are struggling with watching your children grow up, as they stumble and fall before they rise up into the young man or young woman God has called them to be.
1. For the Mom Who Feels Like Her Child Is Slipping Away
It happens so gradually that you don't even notice the child you once knew is slipping away. It's as if someone has replaced your kind, thoughtful, caring child with a completely different person. Someone you don't even know.
Transition and change are inevitable. The world is constantly changing, along with societal trends, and it's easy for our impressionable children to get swept up in it, despite our efforts to protect them from this very thing.
The ebb and flow of motherhood must be sustained through it all—not just for our own mental and spiritual health but also for our children's.
Moms have the ability to be the anchor for their children, but we must first turn to Jesus Christ to be the anchor for our souls as we navigate the rough waters of parenting.
"For everyone who has been born of God overcomes the world. And this is the victory that has overcome the world—our faith. Who is it that overcomes the world except the one who believes that Jesus is the Son of God?" 1 John 5:4-5 (ESV)
Oh God, where do I even start? You are so good, and you are in control of all things, including my children. Most days, I don't even feel like I know my child anymore. I don't understand why they do what they do. Give me the wisdom to speak truth into their life. Help me to love them and the person they are becoming and not to grieve the changes they are going through, knowing that in order to grow and mature in Christ, change must occur. I pray for your protection and guidance over them. I take comfort in knowing that, no matter what, you are there with them. Please give me the strength to be the consistent person in their life, and that when everyone else fails them, they know they can always turn to me, and most of all, they can always call on you. In Jesus' name, amen.
2. For the Mom Who's Waiting For Her Prodigal Child to Return
You never expect the day to come when your child decides he or she no longer needs you. Whether they are sick of the rules or they just want so-called freedom, they up and leave. And while it may not be on the terms we would've chosen, the day has arrived.
Just like that, they're gone. Out into the cruel world that we shielded them from for so long.
They have given up the warmth and security of our loving home to break free and do all the things they think will make them happy. Meanwhile, we can't stop thinking about them. We wonder where they are and who they are with. Are they safe? Are they even alive?
When my son left, I felt like my heart had been ripped out. I cried for days. I constantly prayed for him, but the words coming out of my mouth didn't align with my heart.
Deciding I couldn't go on this way, I asked God for comfort, peace, and strength to pick myself up and move forward; I surrendered my child to Him, and I relinquished the reins of control.
An indescribable peace came over me. Little by little, our son came back around. One small step at a time, he worked his way back into our lives and eventually back into our home.
"I am still confident of this: I will see the goodness of the LORD in the land of the living. Wait for the LORD; be strong and take heart and wait for the LORD." Psalm 27:13-14 (NIV)
Dear God, you are the only one who has the power to protect my child when he is not in my care. Who better to watch over him than you? Even though I miss him, and even though I worry about him, I surrender his life, his choices, and his well-being to you. Please place a hedge of protection around him; remind him of who he is and who he belongs to. I entrust him to you. Please give me a peace that surpasses all understanding; give me strength as I wait for his safe return. Help me to trust that you will make all things work for good, according to your purpose, because I love you, and I know He loves you, too. Let this be something we look back on and only see your goodness, mercy, and grace. In Jesus' precious and powerful name, amen.
3. For the Mom Who Feels Like She Fights Her Battles Alone
Motherhood can seem like a lonely place, which sounds ridiculous, considering there are so many of us going through the same thing. Yet, here we are, feeling like we're fighting this battle alone.
If you feel alone, I want you to know that God is near! He has not left you to do this alone! He is Immanuel, God with us! All you have to do is call out to Him!
"Fear not, for I am with you; be not dismayed, for I am your God; I will strengthen you, I will help you, I will uphold you with my righteous right hand." Isaiah 41:10 (ESV)
Dear God, oh, how I need you right now. I can't shake this feeling of loneliness. Even on my best days, I still feel like I'm the only one fighting this battle of raising my children in a world that is so against you. It's as if everything I try to teach them, the enemy tries to undo. Your Word says that you are with me, and I want to believe it so badly. Please give me a sign; show me that I am not alone in this fight! Help me find others just like me, as I can't do this alone any longer. You created us for community, and I know that if we are to win this battle, we need an army. I thank you and praise you. I thank you for your promises, and I thank you for reminding me that, in the end, we win! I am so grateful to know I am on the winning team. Please give me the strength to endure and to keep fighting. In your powerful name, I pray. Amen.
4. For the Mom Who Put Her Dreams on Hold
When was the last time anybody asked you what your dreams were? We've spent the last couple of decades supporting our children as they chase after their dreams. We're there, always cheering them on, doing whatever it takes to ensure they cross the finish line.
I encourage you to remember your dreams that have been on the back burner and take steps toward finally reaching them. It's never too late.
As the children will grow up and move on, it's time to find your purpose and passion beyond motherhood.
"Delight yourself in the Lord, and he will give you the desires of your heart." Psalm 37:4 (ESV)
Dear God, I pray for help to see that I'm still the person that you called me to be so many years ago. Once upon a time, I was filled with all kinds of hopes and dreams. I thought you placed ideas in my heart, things that I'm good at, gifts and abilities you gave me to serve you and to reach others for your kingdom. But somehow, along the way, I've lost sight of who I am and who I thought you called me to be. All my focus has gone into being a mother, and while I know the children you gave me are gifts, and you have placed them in my care, I also realize one day, they will no longer need me in this capacity. Help me to remember my dreams once again, the ones that filled my heart in those days when I was on fire for you. Your Word says that if I delight myself in you, you will give me the desires of my heart. Lord, I long to do your will. I want to seek after the dreams you gave me before; make me aware of opportunities that you have placed right in front of me, and continue to build up and grow the talents and abilities you have given me. In Jesus' name, amen.
Missed Part 1? Check it out here.
Photo Credit: ©GettyImages/monkeybusinessimages
Jennifer Jabbour resides in the scenic San Diego countryside with her husband, teenage son and daughter, and their hilarious English Bulldog. Jennifer has a B.A. in Integrated Business Communications and a life-long desire to share her faith with others so they can also experience the joy of having a relationship with God. She has finally decided it's time to go after her lifelong dream of writing and publishing her first book, and hopefully many, many more thereafter. Besides being a writer, Jennifer is also a brown belt in Brazilian Jiu Jitsu, a photographer, and an avid outdoors-woman. She loves camping, hiking, running, and playing the piano in her free time.
You can keep up with Jennifer on her website https://www.jenniferjabbour.com.
Related: FREE Podcast for Praying Moms!
Do you desire to be a prayer warrior for your kids? Million Praying Moms is the podcast helping you learn to pray God's Word for your children in the areas they need it most. Join author and speaker, Brooke McGlothlin, in making prayer the first and best response to the challenges of motherhood. Listen to every episode on LifeAudio.com, and be sure to subscribe on Apple or Spotify so you never miss an episode.
The views and opinions expressed in this podcast are those of the speakers and do not necessarily reflect the views or positions of Salem Web Network and Salem Media Group.
Related video:
You can read Rhonda's full article here!