8 Prayers to Make Christmas Centered Around Christ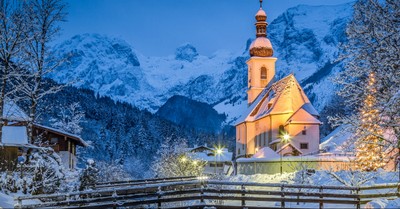 By Cally Logan, Crosswalk.com
As we draw near to the Christmas season, it can be easy to forget the true meaning of Christmas. Holiday parties, family gatherings, gift shopping, and all the wonderful things of the season are not bad or even sinful, but what is important is that we do not let them become the central focus of this time. This season, let's make an effort to center our hearts and minds around what Christmas is truly about: Christ.
1. Prayer for Remembrance of Him
Father God,
We thank You today for this season, and Lord, we seek to remember why we celebrate Your Son, Jesus, during this time of the year. Lord, You sent Your only Begotten Son, Jesus, to the world to be born as a baby to one day die for our sins. Lord, that is no small thing, and we seek to not only remember the sacrifice that You gave in sending Jesus, but we praise and worship You in thankfulness and humility that You would do so. Lord, help us not forget that the reason Christmas matters is what Jesus did on Good Friday and rising on Easter. Keep our hearts ever mindful of the severity of what Jesus did in coming to this earth, and give us a heart posture of gratitude that He came to die that we might truly live.
In Jesus Name,
Amen
2. Prayer for Focus
Father God,
We come before You, hoping that our genuine focus may be on You this holiday season. It is such a gift this time of year to go gift shopping and come together with family to reconnect, but we do not want to let our hearts and minds become so distracted that we forget why we come together in the first place. Give us hearts not torn by commercialism or consumerism so that we may not become materialistic. Help us give our best to those around us, but help us not become consumed with paying attention so much to other people that we lose our heart to give You our best. Help us keep You central in all that we do and all that we are, especially in this time. We offer You our hearts, oh Lord. We offer You our worship.
In Jesus Name,
Amen
3. Remembering Jesus This Season
Father God,
Thank You for the gift that is Your Son, Jesus. Lord, help us not let the traditions of this season, like Santa, overshadow the greatest gift of Jesus Christ. Guide our hearts that they might not be torn or divided in where we are teaching our children and those around us to give our primary efforts as well. It is great to play pretend with Santa or enjoy holiday stories like Frosty the Snowman, but Lord, it is You that is absolute truth and the sincere gift of this time. Thank You, Lord, for coming to earth to save us. Thank You, Father, for the gift of Your Son.
In Jesus Name,
Amen
4. Prayers for New Memories with Young Ones
Father God,
Together we come forward to ask and invite Your Spirit to move in our lives towards new memories centered around the true meaning of Christmas. Help us to teach the young ones around us the story of Christmas so that they may come into understanding and great joy in knowing they have a Father in Heaven Who loves them and counts them dear. As we enter into the season, bring forward to our attention ways to creatively cultivate new traditions that shift the focus from us to You. We sincerely seek to raise up little ones that they may know Love incarnate through Christ.
In Jesus Name,
Amen
5. Prayers for Inviting Others In
Father God,
As we come into this season, we pray that You would use us as Your ambassadors to the Kingdom. Help us share the meaning of Christmas with those around us. Christmas can be a challenging time of the year for many, so many feel the ache of being alone. Please use us this Christmas to be inviting and kind to those around us and give us tender understanding to be sensitive to those that often are overlooked. Please use us as Your hands and feet here on earth to share Your love and truth. It is in our hearts to share Your heart with others.
In Jesus Name,
Amen
6. Remembering Gifts of the Year
Father God,
Thank You for the gifts You have graciously given us this year. It has been a heavy couple of years with COVID and things emerging globally, but You have never left us. Thank You for good, for clothing on our backs, and for the gift of life. Perhaps more than ever, we can stand in remembrance of what we do have and the favor that You have shown us through the good and the bad. Thank You for keeping Your promise to be with us always. Instead of hearts seeking to gain more, help us be mindful and genuinely grateful for what we have. For all good things come from You and You alone.
We thank You, our Father, in sincerity.
In Jesus Name,
Amen
7. Remembering Faithfulness of the Past
Father God,
Memories from Christmas's in the past often emerge in our minds, and we reflect upon them as one would looking at an image in a snow globe. Help these snow globe memories of nostalgic yesteryears be ones where we are left with a word of thankfulness on our tongues towards You. Let us remark upon these gifts to others to share with them markers of Your goodness and faithfulness. May we not become so consumed with what is happening today that we forget the marvels we have seen in the past. Help our hearts be open to what You may bring forth for us in the future and trust that Your plans are good.
In Jesus Name,
Amen
8. Prayers of Worship and Honor
Father God,
We seek to praise and worship You and You alone. Lord, this time is to be centered around You. To remember all that was promised in the Old Testament, all that was building up in promise, and how You alone fulfilled each and every promise of the Savior and Salvation to come through Jesus. Lord, we worship You and You alone for Your faithfulness, Your kindness, Your sacrifice, and that You are our God Who keeps His Word every single time. All praise, honor, and glory we give to You and You alone. Thank You, God, for being faithful; even when we fail, You stand true.
In Jesus Name,
Amen
This season is so full of light and life, but none of it matters unless our hearts are in the right place. Commit this season to give your efforts, attention, and motivation to the Lord in order that He is kept the center of the season. Life is a precious gift, and He has graciously given us life, and He alone is our Salvation. Keep your mind and heart on Him, and see how this season is transformed unlike ever before. May God bless you and keep you this beautiful season!
Photo credit: ©GettyImages/bluejayphoto
Cally Logan is an author and US History teacher from Richmond, Virginia. In her free time, she enjoys mentoring youth and spending time in nature. Her book, Hang on in There, Girl! Will be available everywhere on April 1, 2022. Check her out on Instagram and Twitter, @CallyLogan and TikTok Cally_Logan.