Prayers to Start Your Day! Morning Inspiration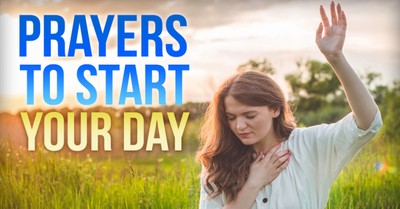 By Compiled & Edited by Crosswalk Editorial Staff, Crosswalk.com
Start your day with thanksgiving and devotion to our Heavenly Father with morning prayers to grow your faith and humility!
"Let me hear in the morning of your steadfast love, for in you I trust. Make me know the way I should go, for to you I lift up my soul." ~ Psalm 143:8
May these prayers inspire you to live with courage and hope each day! Subscribe to the iBelieve channel for new prayer videos.
The Light of God's Love
O God, creator of light:
at the rising of your sun this morning,
let the greatest of all lights, your love,
rise like the sun within our hearts.
Fill Me With the Spirit Today by Dr. Charles Stanley
Dear Lord, as we rise to meet each new day, please let us be filled with Your spirit. Wherever we go, let us spread love, joy, peace, goodness, and faithfulness. Let us desire to become more like you and to worship you in all we do. Help us desire these things so much more than the sin that entices us. Thank you for always going before us. In Jesus' Name, Amen.
Traditional Morning Prayer
O Lord, grant that we may meet the coming day in peace.
Help us in all things to rely upon Your holy will.
In each hour of the day, reveal Your will to us.
Bless our dealings with all who surround us.
Teach us to treat all that shall come to us throughout the day with peace of soul, and with the firm conviction that Your will governs all.
In all our deeds and words, guide our thoughts and feelings.
In unforeseen events, let us not forget that all are sent by You.
Teach us to act firmly and wisely, without embittering and embarrassing others.
Give us the strength to bear the fatigue of the coming day, with all that it shall bring.
Direct our wills. Teach us to pray. Pray within us. Amen.
A Daily Prayer of Thanksgiving by Debbie McDaniel
Dear God, Thank you for your amazing power and work in our lives, thank you for your goodness and for your blessings over us. Thank you for your great love and care. Thank you for your sacrifice so that we might have freedom and life. Forgive us for when we don't thank you enough, for who you are, for all that you do, for all that you've given. Help us to set our eyes and our hearts on you afresh. Renew our spirits, fill us with your peace and joy. We love you and we need you, this day and every day. We give you praise and thanks, for You alone are worthy! In Jesus' Name, Amen.
Morning Thanksgiving
We give you sincere thanks
for the rest of the past night
and for the gift of a new day,
with its opportunities to pleasing you.
Grant that we may so pass its hours
in the perfect freedom of your service,
that at evening, we may again give you thanks;
through Jesus Christ our Lord.
A Morning Prayer from the Early Church
Almighty God, you fill all things with your presence.
In your great love, keep us near you this day.
Grant that in all our ways and doings we may remember that you see us,
and may always have grace to know and perceive
what things you would have us do, and give us strength to do the same;
through Jesus Christ our Lord. Amen.
Swedish Morning Prayer
O Lord God, heavenly Father,
we thank you with all our heart
that you have brought us to the beginning of this day
on which we will hear your holy gospel.
Graciously preserve among us the light of your truth,
and so direct and rule our hearts by your Holy Spirit,
that we may never turn away from it,
but remain steadfast in your Word,
and finally, by your grace, receive salvation;
through Jesus Christ your Son our Lord,
who lives and reigns with you and the Holy Spirit,
now and forever. Amen.